Writing Love Letters with Porkboii
Welcome to the 18th edition of the IMF Artist Profile, a series dedicated to the Indie Music Feedback community. The goal of this series is to take a look at the personal lives of some of IMF's biggest contributors, giving you a peek into who they are as human beings. We'll pull back the curtain as far as our guests allow and hopefully we will all walk away with a better understanding of the music these individuals are creating as we learn more about them.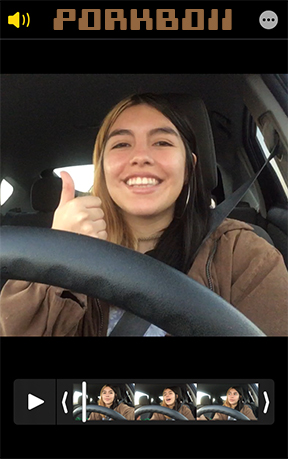 We're talking to Porkboii this week, a multi-talented musician, vocalist, producer, and artist from Mexicali, the capital city in the state of Baja California, Mexico. Sarai, as she's known to her friends and family, currently lives in Redlands, California in the United States. Here she lives with her amazing roommates and a ferret named Tonks. When she's not promoting, writing, performing, or producing her music, Sarai is working as a Lean Specialist. Here she analyzes and processes for improvement opportunities with people in charge of those processes. It's no wonder she has such a good ear for music and production. Sarai also studied Physics at University where she graduated in 2018. Although music is her main hobby, she also sculpts and paints, and has been learning how to rollerskate with the help of her friend and roommate Ana. When I asked her how she found out about IMF, Porkboii had this to say, "I found it on Reddit. I had been posting my music in music subreddits back in February 2019 and Pax send me a direct message letting me know about the rules of the subreddit and asking me to check it out, which I did c:"
This week I'm doing something a little different and talking about a full album instead of one selected track. This week, it's Love Letters.
Porkboii's music is often light, airy, and full of heart. On her debut album Love Letters, Saraí sings about depression, putting your heart on your sleeve, creativity, and accepting yourself as you are. Often accompanied by a muted electric guitar, Saraí's vocals are perfectly pitched and harmonized on every track. What I love most about her music is how she's able to create complexity with only a few instruments and her own voice. When I think of Porkboii's sound I think about some of indie's greatest female vocalists like Clairo, Phoebe Bridgers and Mitski. Her talent also extends to her continued desire to not only learn more about the production and mastering process but to take control of that aspect of her art in an effort to make music on her own terms. In talking with Saraí, one of the things I've come to admire the most is her unrelenting spirit and authenticity. Today we're going to be talking about her creative process, new directions, and creative challenges.
Now onto the questions:
Baaz: Love Letters has a very distinct sound to it. The album itself feels like an extremely cohesive collection of ideas and themes that you created with that in mind. How did you approach songwriting for this album? What is your creative process like in general?
PorkBoii: So I actually don't write songs with albums in mind. I write songs as a way to express myself and to think through my own feelings, they're very much like diary entries, and I've slowly been categorizing them and putting them into album formats by thinking through common themes in each song. Love Letters is a collection of love songs that were written from 2016 to 2019. The collection is meant to be similar to a vault of mixed love letters that explores five different relationships and different approaches to romantic connection to others and myself.
Baaz: Which song on this album presented the greatest challenge to produce? Tell me how you got through it.
Porkboii: Since I already had all of the songs written for the album I simply approached the production as me just needing to go into the studio, recording them and cleaning them up well enough for publication. I didn't have any experience in production so I didn't think through a lot of things like tone or album cohesion. This was a huge challenge throughout on its own. I suddenly felt like I had to build and layer up my songs in ways I hadn't thought about as a songwriter. The biggest challenge was Closer, since I wasn't sure how to build it up in an effective way that still supported the feeling I was trying to convey through the song. This album is when I really started working on a DAW to figure out what tone and layering I wanted to achieve. In the end I decided to leave Closer as stripped down as possible, which I think works for the tone of the song. In general I want to re-work and re-release every song in Love Letters with a better production approach at some point.
Baaz: I really like the direction of your latest release on Spotify, Let Me. Is this a sound we can expect to see on an upcoming album or just branching out with a new single?
Porkboii: I hope so! LOHM from Indie Music Feedback produced this song, DHXP did some instrumentation and T-Rex Jones did drums and I think LOHM's production style and direction really did wonders for the song direction and helped the song really be what it was supposed to be. This song really felt like a step in the right direction tonally so I hope continuing to work with LOHM as a producer will continue to yield the same, or even better results moving forward 🙂
Baaz: Learning that you've graduated from University with a degree in Physics is extremely intriguing. Can you tell me more about your time in school and what you'd like to explore with that degree? If your music career were to explode and you hit it big time, would you still pursue one in this field?
Porkboii: Well my plan was to get a Ph.D. focusing in optics or acoustics, but in order to pay off my student loans I decided to hold back on that and work. I am currently doing nothing related to Physics. I think if my music career were to blow up that would be an ideal situation for me to go back to school and continue my studies, so I'm hoping for the best.
Baaz: What does IMF mean to you right now in your life? How has it affected you?
Porkboii: IMF is honestly the main thing keeping my focus on music. I think without the community I would not be able to continue working on music and growing musically. It has given me the tools and community necessary to approach music in a satisfying way. I might not be as involved as I was before but it's definitely my first recourse regarding music and I value it immensely.
---
Additionally, I wanted to bring your attention to a post from another community member, Popijininsky. Each month IMF puts together a community playlist and helps promote it. This month, Pop wrote an excellent piece that quickly sums up each track along with a blurb from the Artist. Please take a moment to read Pop's post and consider sharing or joining the playlist in the future! You can read the blog post and find the playlist here.