Welcome to the first edition of a profile series dedicated to Indie Music Feedback contributors. This series will take a look at the personal lives of some of IMF's biggest contributors, giving you a peek into who they are as human beings. We'll pull back the curtain as far as our guests allow and hopefully we will all walk away with a better understanding of the music these individuals are creating as we learn more about them.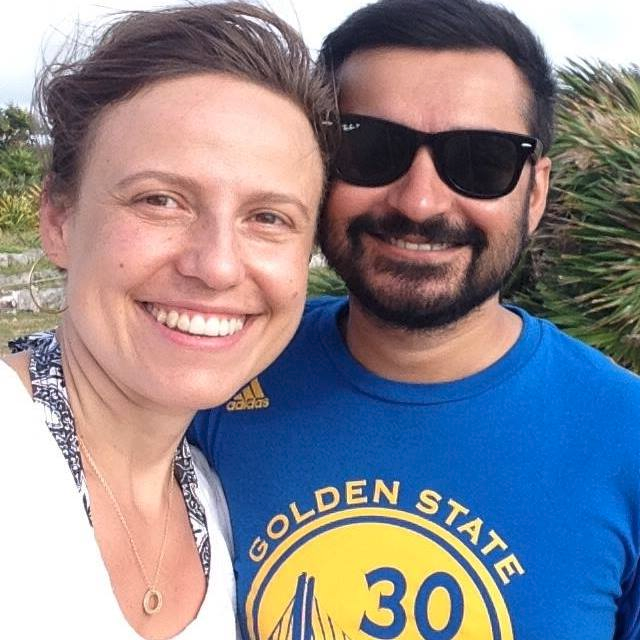 How it works: Each week, I will send the upcoming guest 3 basic questions and 2 thought-provoking questions. Most of these will be personal in nature, and some may be related to their music. Guests have every right to abstain from any one of these questions and can even change questions entirely to something they would prefer to be asked. The questions will change each week, but the format will remain the same.
My first guest is avdrav, IMF Blog creator, technical guru, critique master, and prolific artist. Please find his music at the following link: https://avdrav.com and I highly recommend playing his collection while you read on.
Artist Bio…
Avniel, or who most of us know as AV, is from the United States, Princeton, New Jersey. Just an hour south of New York City. In addition to growing up on the East Coast, AV has lived in California, Pennsylvania, and even Washington State. AV has also been married for 12 years and has known his wife for an incredible 14 years. His sister and nieces also live in NJ so he is close to his family. As for Avniel's day job, he's a product guy! Using his expertise he focuses on software applications of all kinds (mobile, web, enterprise). This no doubt contributes to his technical acumen and his thirst for knowledge in the music production scene. I also personally feel that this has propelled him to be one of the best folks on IMF to get feedback from.
Getting to know avdrav…
Baaz: Do you find that any of your daily life contributes to your music? Does your family, environment, or your profession have any direct contribution to your music?
AV: My daily life largely revolves around work and music, since I have no kids. My daily rituals right now include: creating one new song idea a day, working on lyrics for 10 minutes, and listening/research for at least 15min for 3 songs that I want to set as inspiration for the day. Most of this I try to accomplish first thing when I wake up. It is super nice to have the global IMF community up at all hours to motivate me in these daily rituals. I actually have a song about it — Rituals — where I was trying to express the kind of joy these small daily habits bring to my life. Some of this rigor I take from my work life, where I also try to follow a creative process to build delightful software.
Every time I dive into my DAW, I realize the similarities between music-making and software development. Both are fundamentally iterative today. Given the tools at our disposal, I scoff at the whole "professional" music industry with its tendency to follow a traditional legacy or waterfall process. In that old world, there is a very strict workflow that involves multiple audio engineers and gated phases. For example, mastering engineering cannot go back and edit the mix once the mixing guy is done. With independent music, we don't have to follow these rules anymore, so it's a lot like what happened to software development in the late nineties and 2000s. We conceived better tools to build, develop, and test more quickly, which led to a more iterative "agile" process. With the revolution in DAWs, VSTs, and the full ecosystem of plugins — we finally have Grammy-winning albums being made in a bedroom. This is the perfect equivalent of the startup in a garage back in the '90s.
Baaz: What was the worst job you've ever had? Any funny or memorable stories to go along with that?
AV: I've been lucky in my career to work with amazing people. I tend to be a bit of a corporate punk rock rebel, in the sense that I prefer working on new and innovative products and services that are disrupting the traditional way of doing things. So, I've been incredibly fortunate to work on cool products with visionary technologists. Every day I'm grateful for that.
As far as the worst thing I had to do professionally, it was shutting down my startup Enliken. In no way was this my worst job, because I put my heart and soul into building a product that I thought could change the world by disrupting Facebook's lock on consumer data. When that startup failed, I took it pretty hard. I didn't have much to soothe my soul at the time, as I was yet to discover my love for music production.
Baaz: It's clear to me that traveling has greatly influenced your music as well. Do you make it a point when you travel to check out the local music scenes? Is there anywhere in particular that left an impression on you for the music you heard while visiting?
AV: When we travel, I definitely try to get into the music scene before and during travel, though I haven't seen as much live music abroad as I'd like. At this age, I prefer small venues with more intimate settings, and these types of experiences exist mostly in American and European cities. Thus, most of my musical influences come from the US, UK, and Europe. Then there is Jamaica. I love reggae and dub but have yet to visit the island. I'm saving that for a long trip someday.
BUT, and this is a big but.
Indian music has played an outsized influence in my life. There are really two styles, one from the north called Hindustani music, and one from the south called Carnatic music. Each has its own sound, but I'm not knowledgeable enough to define the difference — the system is so different from western music theory. One of my most memorable live music events was watching the master of the shehnai (Indian oboe) in New Delhi. They wheeled out a 90-year-old man who looked quite frail. Then Ustad Bismillah Khan, the greatest shehnai player of his generation proceeded to blow away a room of about 50 people gathered in attendance. There was no frailty in this man's playing — it was some of the most rhythmic and dynamic music I've ever had the pleasure to hear live. Recordings won't do it justice.
Baaz: Where else have you traveled so far?
AV: My wife and I have been lucky to travel quite a bit during our relationship. Our favorite place to visit together is probably the island of Kauai in Hawaii. We've also visited a bunch of cities in Europe and quickly fell in love with Paris, Berlin, and Amsterdam. Reykjavik is another amazing place in the utopian society of Iceland. Still on my list are Tokyo, Lisbon, and Rio De Janeiro. I've been to two cities on the African continent: Nairobi and Cape Town. Both are amazingly different, but because of British influence, they feel very much like India. The country I've traveled the most (outside the US) is India. My favorite region is called Kerala, on the southwest coast. If you ever make it there, don't skip the fish curry!
Baaz: AV, in listening to your music, I hear a pretty consistent theme centering around what (to me) seems like a very deep compassion for the human condition. Why is that such a draw for you?
AV: This may be difficult for people to understand, if they come from a homogenous background. I am a person of two countries, and no country, at the same time. When I am in the US, I am instantly identified as brown which means Mexican or Indian. When I am in Mexico or India, I will be identified as white because of the way I look. From my experience, it is tough to break out of these stereotypes, and I face them daily.
All of that said, my answer to the question is this: humans are humans, no matter where they were born. I consider myself a global citizen, and not one beholden to a certain geography or culture. My music definitely tries to say these things in more ways than one. I love the idea that my music could bring together humans, rather than divide us over things like color and race. Thus the concepts of fusion and contrast are big in my musical thinking.
Baaz: Outside of the music world, what is the most fascinating thing to learn about in your opinion?
AV: I spend a lot of time listening to history courses, books, and podcasts. My grandfather was a history professor at the National Defense Academy (similar to West Point in the US), and so I must get some of my interest from him. I also tend to watch every documentary that Ken Burns puts out into the world. His love songs to Baseball and Jazz are two of my favorite historical documents. Sometimes I just leave those on while I fall asleep to the sweet sounds of Peter Coyote (the guy who narrates the documentaries). I think it is this love of history that also drives my need to explore and travel the world.
Baaz: Let's say that your wildest music production dreams are realized…You make it big, you get that jet, maybe your own label, years into it and you've won a few Grammys. What comes next? What is your idea of ultimate personal fulfillment?
AV: I try not to care about awards. But maybe I do. I've never been one to chase after them, even in grade school when everybody wanted that stupid certificate of accomplishment and recognition. On the other hand, just like most artists, I get an ego boost when my music is heard. So that's what I focus on — reach. I want people to hear the music, especially fellow artists.
I care most about acceptance by my peers — those who are on the same level as me. Sure it would be great to be recognized by the world-at-large, but along with that comes a ton of costs that I'm not willing to bear. For example, I have no desire to play live shows. I leave that to the performers and show-people who can really design an artistic event.
I will stick to bedroom beats and a SoundCloud account for now. Although someday it would cool to run some sort of artist collective label. Hoping IMF is the start of that.
I would like to thank avdrav for his time and thoughtful answers!
Check back next week for another Profile featuring our very own TrexJones, creator of the Stay Creative podcast!